Description
Pucker up! Best lip balms ever.
Eucalyptus Mint
Mocha
Unscented
You've come to trust Herbaria to offer products with entirely wholesome ingredients. Here are our soothing lip balms for your chapped, cracked lips. Nature's best emollients moisturize and protect your precious lips.
We make them with a blend of coconut oil, cocoa butter, mango butter, palm kernel oil, candelilla wax, and vitamin E.
All made from natural scents and flavors. The almond is real almond. Chocolate is real chocolate.
What's not in these? No animal products, no petroleum products, no synthetic flavors. All of our lip balms are vegan so there's no beeswax either. Free the bees!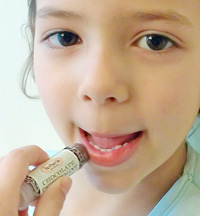 Every ingredient is safe for children and adults.
"I put on lip balm all day every day. Your lip balm is the bomb!."
Emily Parente, St. Louis, MO
"I don't need to use your lip balm as much as I do. They're so good I can't help myself."
Debbie Gibbs, Lime Springs, Iowa
All Lip Balms Contain
Individual Lip Balms contain in addition:
Additional information
| | |
| --- | --- |
| Weight | .5 lbs |
| Dimensions | 3.5 × 2.5 × 1 in |
| Variety | Eucalyptus Mint, Mocha, Unscented |