Citronella Mist
$9.00
All-natural, DEET-free Insect Repellent
Used and loved for over a dozen years, Citronella Mist® contains eight essential oils known to repel mosquitoes and other annoying bugs. 8oz
Compare
Description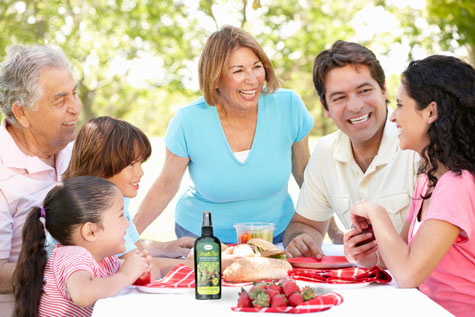 Citronella Mist smells lemony. It's safe around food, perfect for picnics and barbecues.
You'll need it for gardening, hiking, and all outdoor activities. In summer's heat, you'll appreciate the light, cooling mist. It's free of greasy oils, emulsifiers, and skin-drying alcohol. We don't brag about how many hours of protection you get with one application. You can safely mist as often as you like to suit your biochemistry or surroundings.
Another plus, Citronella Mist won't endanger the environment.
What's in Citronella Mist?
Lemon eucalyptus essential oil is distilled from the tree, Eucalyptus citriodora. It smells lemony. This essential oil is not to be confused with synthetic "oil of lemon eucalyptus," a.k.a. para-menthane-3,8-diol, used in many commercial repellents.
Catnip essential oil contains the compound nepetalactone, considered ten times stronger than DEET, according to an Iowa State University study.
Citronella essential oil, steam-distilled from a tropical grass, has been registered as an insect repellent in the United States since 1948.
Lemongrass and thyme essential oils are classified by FIFRA as active ingredients in Minimum Risk Pesticides .
Lavender, basil, and patchouli essential oils are said to repel insects. They contribute to the tantalizing scent of Citronella Mist.(Pregnant and breastfeeding women are advised to avoid basil essential oil, though the amount of this oil in Citronella Mist is negligible.)
Water. And that's it.
Additional information
| | |
| --- | --- |
| Weight | .8 lbs |
| Dimensions | 5 × 3 × 1 in |